People to follow on Twitter who actually tweet about Software Engineering
All blog posts
Introduction
I admit it, the topic of this post is not very original. If you google for its title, you will find countless lists, some of them by large publications. I should know, because I tried to incorporate recommendations from these resources multiple times throughout my 7-year long Twitter journey. However, it always turned out that many of the recommendations are of little use for me due to one or multiple of the following reasons:
The recommended person is famous in the software engineering world, but does not actually tweet much.
The person is famous in the software engineering world, but does not actually tweet about software engineering.
The person is CEO of a software company and their tweets are primarily advertisements or announcements related to the company.
The person tweets the same things as everyone else. In principle, there is nothing wrong with that, but if you follow a hundred people who tweet variations of the same 240 character take, it can become a bit dull.
In order to avoid these pitfalls, I define the following criteria:
Must tweet somewhat regularly, at the very least more than once a month.
Must actually tweet about software engineering or at least closely related topics, such as the software startup scene.
I (subjectively) find the tweets interesting.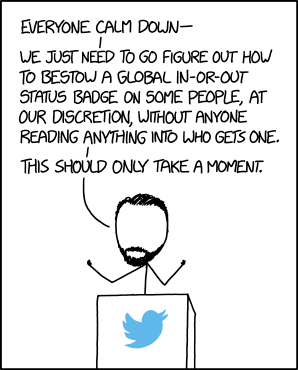 Obviously, any such list is highly opinionated and will always represent only a very small subset of all the amazing twitter accounts out there. Nevertheless, I am confident that my list contains many accounts that most people working in software engineering will find interesting.
I try to fit the people into different categories for better readability. Please note that some people could easily fit into multiple categories.
The listed information is taken directly from the respective person's Twitter account. Only if their description does not give information about their role, I give an additional line stating their position in italics.
Software Engineers
Daniel Stenberg @bagder
Internet protocol geek. I write curl. I play with HTTP and QUIC within IETF. On team @wolfSSL. HTTP/3 is coming. I don't know anything. Stockholm Sweden
https://daniel.haxx.se
---
Dan Abramov @dan_abramov
he/him
https://overreacted.io
Co-author of Redux and Create React App.
---
Armin Ronacher @mitsuhiko
Creator of Flask; Building stuff at @getsentry — writing and talking about system arch, API design and lots of Python / Rust. https://www.twitch.tv/themitsuhiko
Vienna, Austria
https://lucumr.pocoo.org
---
Nick Craver @Nick_Craver
Dad, Architecture Lead, Developer, Site Reliability Engineer & DBA. @StackOverflow. MS MVP. I build very fast things to improve life for millions of developers.
North Carolina
https://nickcraver.com
---
Paige Bailey @DynamicWebPaige
Building @GoogleAI for everyone, and for every platform. There has never been a more exciting time to be a compiler nerd who is into machine learning.
179°56′39.4″, +0°2′46.2″ 8k pc
https://paigevie.ws
---
Patrick McKenzie @patio11
I work for the Internet, at @stripe, mostly on accelerating startups. Opinions here are my own.
東京都 Tokyo
https://kalzumeus.com
---
Michaela Greiler @mgreiler
software engineer @Microsoft, aspiring entrepreneur 🚀, host of @se_unlocked podcast, code reviews, working remote 🌴, mother of 👶👶 #remotework #womenintech
https://michaelagreiler.com
---
Scott Hanselman @shanselman
Code, Race, OSS, Dad, Open Web, Black Hair, STEM, Beyoncé, @TheOfficialACM, MSFT, #T1D. Umuntu ngumuntu ngabantu @Hanselminutes podcast=inclusive tech talk!
Portland, Oregon
https://hanselman.com
---
Chris Achard @chrisachard
Teaching everything I know about: React, Rails, JS, Node, at http://chrisachard.com ; online instructor @eggheadio
Carmel, IN
https://chrisachard.com
---
Volkan Yazıcı @yazicivo
programming | Java | and Java | and a little bit more Java | some F/OSS | maybe GNU/Linux
Utrecht, Netherlands
https://vlkan.com
---
Monica Lent @monicalent
Latin major turned software engineer 💖 JS, FP, U2F, Linux, and embarrassing myself in German on a daily basis. Building @affilimateio 👩🏻‍🚀
Berlin, Germany
https://monicalent.com
---
David Fowler @davidfowl
Partner Software Architect at Microsoft on the http://ASP.NET team, Creator of SignalR, Barbadian, Tennis Player, Father, and Husband of @symonefowler
Redmond
https://davidfowl.com
---
Chris Smith @aChrisSmith
Author of Programming F# and all-around nice guy. Employee #3 at @PulumiCorp. Ex-Googler, Microsoftie too, in case that matters. Opinions are my own, obvs.
Seattle, WA
InfoSec
Troy Hunt @troyhunt
Pluralsight author. Microsoft Regional Director and MVP for Developer Security. Online security, technology and "The Cloud". Creator of @haveibeenpwned.
Australia
https://troyhunt.com
---
SwiftOnSecurity @SwiftOnSecurity
Systems security, industrial safety, author http://DecentSecurity.com + http://GotPhish.com , write SciFi, sysadmin, & use Oxford commas. they/them/tay
Cyber, USA
https://decentsecurity.com
Taylor Swift parody account tweeting about InfoSec topics
---
Matthew Green @matthew_d_green
I teach cryptography at Johns Hopkins.
Baltimore, MD
https://blog.cryptographyengineering.com
Professor for cryptography at Johns Hopkins
Initially, I wanted to do a section with Academics. However, it turned out that I do not actually follow a lot of university researchers. Dou you know of any that would fit the criteria given in the introduction?
Blockchain
Vitalik Buterin @VitalikButerin
See https://about.me/vitalik_buterin Not giving away ETH. For inquiries about me advising your ICO, please email: [email protected]
Earth
https://vitalik.ca
Co-founder of Ethereum
---
Emin Gün Sirer @el33th4xor
CEO @avalabsofficial, Prof @Cornell, co-director @initc3org, currently on leave from the last two
Williamsburg, NY
https://hackingdistributed.com
Startup Scene
Paul Graham @paulg
https://paulgraham.com
Co-founder of Y Combinator
---
Garry Tan @garrytan
Managing Partner, @Initialized. Earliest investor in @coinbase @instacart @flexport & 100+ more—$36B in startup market cap so far. Forbes Midas List 2019 #21 🚀
San Francisco, CA
https://youtube.com/garrytan
---
Kate Clark @KateClarkTweets
Writing about startups & VC for @TechCrunch | Co-host of Equity | Author of a weekly newsletter on startups 👇🏼| Tips: kate.clark @ techcrunch
San Francisco
https://techcrunch.com/newsletter
---
Danielle Morrill @DanielleMorrill
GM @MeltanoData at @gitlab. Partner @xfactorventures. Fully remote. Previous: CEO/cofounder @Mattermark, YC grad, @Twilio. Tweets archived every 7 days
Denver, CO
https://daniellemorrill.com
CEOs and Founders of large Companies
David Cramer @zeeg
building @getsentry
San Francisco
https://sentry.io
CEO of Sentry
---
Sid Sijbrandij @sytses
Legal first name: Sytse. Co-founder & CEO of GitLab. I love innovative projects, accessible education, all remote work, new cities, and macro economics. he/him
San Francisco, California
https://about.gitlab.com
---
John Collison @collision
Co-founder of @stripe.
San Francisco
https://johncollison.ie
---
Jeff Atwood @codinghorror
Indoor enthusiast. Co-founder of http://stackoverflow.com and http://discourse.org . Abyss domain expert. Disclaimer: I have no idea what I'm talking about.
Bay Area, CA
https://blog.codinghorror.com
---
Jack Dorsey @jack
CEO of Twitter
---
Matthew Prince @eastdakota
A little bit geek, wonk, and nerd. Repeat entrepreneur, recovering lawyer, and former ski instructor. Co-founder & CEO of Cloudflare (NYSE: NET).
San Francisco, CA
https://cloudflare.com
---
David Heinemeier Hansson @dhh
Creator of Ruby on Rails, Founder & CTO at Basecamp, NYT best-selling author, and Le Mans 24h class-winning racing driver.
dhh.dk
Other Industry Professionals
Adrienne Porter Felt @apf
Bird watcher, gardener, lover of books about space. Engineer & manager @googlechrome. Internauta.
Mountain View, CA
https://adrienneporterfelt.com
---
Martin Fowler @martinfowler
Author, speaker, and general loud mouth on Software Development. Works for ThoughtWorks. Also hikes, watches theater, and plays modern board games
Boston
https://martinfowler.com
---
Frances Berriman @phae
this answering machine is full. email me. / also @sensorshq / http://sensorsandsensibility.com / product / design / UX @netlify
https://fberriman.com
---
Pam Selle @pamasaur
Professional nerd, amateur humorist, author, & hacker. Google Developer Expert, @recursecenter alum, queer 🏳️‍🌈 [she/her] Avatar photo: Stanley Zheng
Philadelphia, PA
---
Richard Minerich @rickasaurus
Unicorn Dad, Dinosaur Programmer, Fancy Types, Machine Learning, Physics. CTO at Safe Banking Systems (Part of Accuity). Tweets/Opinions are my own.
Hoboken, NJ
https://richardminerich.com
Conclusion
I believe that Twitter is a solid tool to stay aware of current discussions and trends in software engineering. Hopefully, this list helped you to improve your timeline. In case you are just starting with Twitter, consider to follow also people from other domains to create a more diversified Twitter experience.
Of course, suggestions are very much welcome, especially if they fit the above criteria.
comments powered by

Disqus